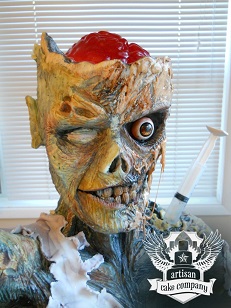 A friend of ours (thanks, Tera!) brought this to our attention.  It's from last year but it was new to us and just to good not to share.
This is cake by Elizabeth Marek of the Artisan Cake Company (there are plenty more pictures at the link).  Elizabeth says of her creation:
The "cake" is for display so it's actually made from Rice Krispy Treats (RKT). The skin is modeling chocolate and the eye and shirt is fondant. I made the eye by painting it with food coloring.  The brain is made from a jell-o mold I got from the Halloween Store. It worked really well and turned out perfectly. I was nervous because I have never made a Jell-o brain before but it was super easy and tasted AMAZING let me tell you!
All we can say is DO WANT!