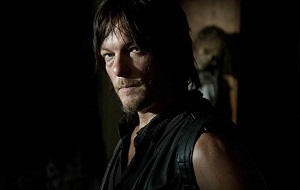 Here are a few random thoughts on The Walking Dead episode 412, "Still".
[Spoilers ahead.]
The Trunk
The opening sequence was great. Beth and Daryl spending the night in the trunk of the abandoned car may not have made much sense with all of the abandoned houses lying around, but it was effective as hell. The quiet desperation as they clamber in was obvious as was their resolve. Their wordless coordination elegantly demonstrated the connection that had formed during their flight from the prison. Hearing, but not seeing, what was clearly a small walker herd shamble by was deliciously nerve-wracking.
In the morning as they, again wordlessly, gather their meager supplies (but oddly decide to stick with hefty bags rather than the empty tote bags left on the roof of the car) we get a clear sense of how far into pure-survival mode they've descended. That the supplies were rather inscrutable until we see them used just underlined how personal their struggle had become.
The Country Club
After Beth's booze tantrum it becomes clear that while they're on the same wavelength for survival they're far afield of each other on other matters. As they explore the country club I was sad to see Daryl so clearly (and, I think, uncharacteristically) devolving into thuggishness and misplaced greed. Seeing him pile the money and jewels into the bag was legitimately bizarre. Even before the zombocalypse Daryl seemed like the kind of guy that needed very little cash to survive and now, after it, he seems like the kind of guy that would have no delusions about its worthlessness. The whole idea of Daryl looting seemed half-baked to me.
Beth, finally, was given some attention. Unfortunately, I still feel like they don't really know what they want to do with her. It's was intimated, after her reaction to her boyfriend's death, that she was losing her compassion for others. That thread was never really explored, yet here she's clearly empathetic on multiple levels. When Daryl finally admits that his behavior is the result of his self-loathing and guilt, Beth is clearly there for him, but she also takes pity on the desecrated dead woman at the country club. Beth, as a character, is still incredibly enigmatic and I hope we dig deeper.
Moonshine and Moving Forward
Beth's drink as a "mission" was a great thread for the episode. The idea that she would set herself a challenge – even a silly one – in these circumstances speaks volumes about the character. Her breakdown when she finds the schnapps and her mission ends was heartbreaking. That Daryl sees this and embraces her quest is incredibly demonstrative of his character.
The problem is that the hooch shack brings out the worst in Daryl. As Daryl, in a sense, returns to his roots, he gets mean. He trashes the place, pisses in the corner  and wanders into sadistic ass territory with the walker. He hates what he used to be but, for a moment at least, hates the pain that his new life has created, more. Beth hugs him and he, finally, accepts her concern. Daryl opens up about his guilt and his past and generally admits to his self-loathing. Beth opens up about her hopes and fears. Burning down the shack as a not so subtle metaphor for ignoring the worst of the past and moving forward is a perfect end to one of the best episodes of the series.
This is exactly the kind of episode that I love. A deep, meaningful dive into character development. Of course, I'm curious about what's happening with everybody else, but I'd absolutely prefer to stay ignorant than miss these slower, more thoughtful episodes.