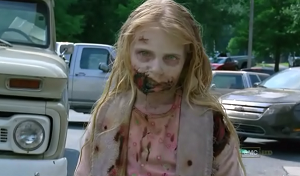 Since we celebrated UUNGH, the first zombie seen in the Walking Dead comics, last week, we decided it made perfect sense to celebrate the first zombie seen in the television version this week: Bunny Slipper Zombie Girl.
The pre-credit flash-forward shows a migratory Rick stopping at a desolate gas station clogged with abandoned vehicles, campsites and rumors of former habitation. The tension builds as he approaches and is disappointed to find no more gas available. As he turns to leave he hears a noise and drops to his belly.
From under the car he gets his first glimpse at Bunny Slipper Zombie Girl bunny slippers shuffling slowly past. He sees a small hand descend to retrieve a stuffed animal (which still seems odd for a zombie) and rises to see a small girl shambling away from him. He calls out, she turns and sees him. She rushes to introduce herself with teeth and he shoots her in the head.
As she falls backward and hits the pavement with a meaty bounce it was our first indication that this wasn't going to be a watered down, sanitized version of our beloved comic: this was going to be the real deal. Oddly enough, Bunny Slipper Zombie Girl (played by then 10-year old Addy Miller), is listed as "Summer" in IMDB, but is uncredited in the show itself. To us she'll always be Bunny Slipper Zombie Girl.