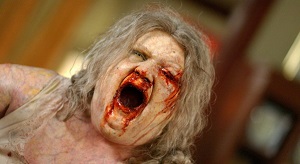 The 2004 remake of "Dawn of the Dead" is an undisputed classic in the zombie genre. It popularized the idea of zombies as the result of a transmittable sickness, gave us some of the first (maybe, in fact, the first) "fast zombies" and continued the time-honored tradition of reflecting the good and bad in human nature from the undead faces of ravenous, cannibal corpses.

One of the several memorable zombies featured (we've already covered perhaps the the most memorable one previously) was the nameless bloated woman. Brought in a small group of bedraggled survivors in a wheelbarrow, this fat, dirty woman (played by the very manly stuntman Ermes Blarasin) is only with us a few minutes before she turns, attacks and is brought down expertly by an annoyed nurse with a fireplace poker through the eye.
We salute you, you bloated, bloody, nameless corpse lady!