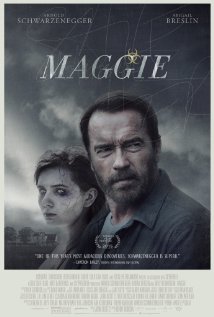 "Maggie" on IMDB
Drama/Horror – 2015 – 95 Minutes
I think we can all agree that Arnold Schwarzenegger's post-political film career has been somewhat… mundane. His several traditional, big-budget action movies have all been good; not great. More pointedly, none of them presented any real challenge or growth opportunities for the actor, although it's difficult to fault a man in his late sixties for keeping inside his comfort zone; especially when he's done so well in it. So, why would he choose to do a low-budget, independent drama – albeit one with a zombie twist?
Zombies remain popular, but still only rarely breakout to impact the mass market. Big name talent tends to avoid the genre and there have been only a few exceptions. (In fact, Abigail Breslin, playing the title character, is an alumnus of one them: 2009's Zombieland.) Add to the mix that this is the first feature for director Henry Hobson and the first writing credit for writer John Scott 3 and  it becomes even less clear what attracted the king of action movies to the project.
What may be most confusing is that this may be Schwarzenegger's best work to date.
The story, like many other post-peak zombie properties, mixes zombies into another genre – this time family drama. The backstory is told through inference and minimal flashbacks. The world is suffering from a zombie plague, but is still clinging to societal norms. There is no cure for the bitten and families are instructed to deliver them to quarantine centers before the change, which can take as long as several months, where they will be euthanized.
The never-seen centers are rumored to be over-populated, poorly managed and terrifying. The method of execution is revealed to be excruciatingly painful. When Wade's (Schwarzenegger) daughter is bitten while on a trip he pulls some strings with his local doctor and is allowed to take her home to say goodbye. Maggie's mother passed away years earlier and there is understandable tension with Wade's new wife, but it never approaches the trite and lazy "wicked stepmother" vibe.
With very little change, the story could easily be that of a child dying of cancer or any degenerative disease. The zombie angle is leveraged well, but lightly and there is little to no "action" in the piece. It's a somber exploration of a father's devotion to his dying daughter and her ultimate acceptance of an inescapable fate. Tension is drawn out expertly from many sources, but always from human interaction and expectation.
As Maggie's condition degrades Wade is put under pressure from multiple sources to take her to the centers or to handle the issue himself. Schwarzenegger's performance is nuanced and surprisingly subtle as we agonize with him on the best course of action. There are still wooden moments, but the performance remains his best in decades; perhaps ever. Breslin matches him well, wavering between bravely facing her fate for her family and being naturally terrified of it. Her performance is enhanced greatly by the effective, but subtle, practical make-up effects that mark her transformation.
Unfortunately its unlikely that the movie will attract a larger audience. It's likely be considered too slow and plodding for most genre fans and too steeped in the genre for fans of mainstream drama. The quiet, introspective story asks a lot, perhaps too much, of its audience. Those willing to put in the effort will enjoy the amazing performances and a deeply human experience.