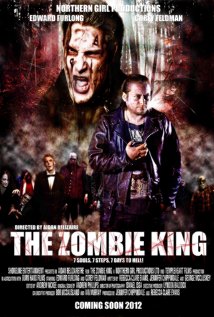 "The Zombie King" on IMDB
Comedy/Horror – 2013 – 85 Minutes
This British offering walks a drunken, wobbling line between decent zom-com and failure. Embarrassingly, it's the American "marquee" actors that drag it down the worst. Former child stars Edward Furlong [IMDB] and Corey Feldman [IMDB], both now schlock movie regulars, put in sad, heartless performances.  The first, as a distraught husband seeking to raise his wife from the dead, and the other as the voodoo god he bargains with to do it. Luckily both roles, although pivotal to the story, are marginalized and get very little screen time.
The rest of the movie is rather traditional. We follow a group of survivors as they struggle to stay alive and out of the jaws of a newly arisen zombie horde. There's a foul-mouthed milk-man who quickly becomes expert at taking out zombies with his milk bottles. There's a meter-maid-man who styles himself "the law" but more often than not ends up climbing a tree and cowering. They are all led by a hard-nosed mailman whose route across a hoodlum-infested estate has taught him a thing or two about survival.
They eventually meet up with other small groups to discover that the army has quarantined the area and is shooting anything that moves, dead or alive. They join forces to reach the relative safety of a nearby church. There a drunken priest, who is also an expert on Voodoo, explains the situation and provides them with a plan to stop the outbreak.
There are numerous gags and genre references, but unfortunately only about half of them land and only a select few land well. The jokes may be a little trite, but aren't necessarily bad; the actors just have trouble pulling them off. Special effects are pretty much non-existent with much of the "action" taking place off-camera. Most damning, the "zombies" spend most of their time just looking annoyed.
In contrast, any scene with Furlong or Feldman is played completely straight. Definitely not better, just straight, making these these scenes feel out of place. It's as if two completely different movies were accidentally edited together. Furlong barely acts at all, delivering all his lines as if he's halfway through reading a driving manual. Feldman, on the other hand takes his role to ridiculous extremes.
All that sadly said, there is… something, here. A kind of quirky charm, perhaps, or maybe just sentimentality for something that could have been.