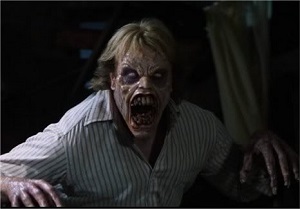 In our continued celebration of the upcoming Halloween premier of Ash vs Evil Dead, Zombie of the Week has been overrun by Deadites! We're bringing you our favorite Deadites from across the franchise!
We continue with another featured deadite from Evil Dead 2, Ed Getley.  Ed was Prof. Knowby's assistant and helped to excavate the Necronomicon Ex-Mortis. He began dating the professor's daughter, Annie, and accompanied her to the cabin when she lost contact with her parents. After turning, "Evil Ed", as the fans dubbed him, started chanting his famous refrain:
"We are the Things that were, and shall be again! Ha ha ha ha ha! Spirits of The Book! We want what is yours! LIFE! Dead by Dawn! Dead by Dawn!"
This is the
131th
Zombie of the Week
; that's over two years of zombies! We are desperately running out of ideas! Please
contact us
with suggestions!