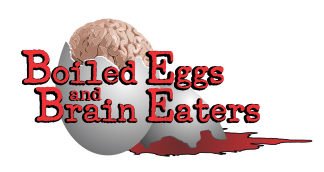 Alas, BEBE 2019, our tenth year, is over! We started BEBE to give the kids something fun and secular to do on Easter in our highly Catholic neighborhood. The kids were Ten and Seven when we started. Now 20 and 16, they're less enthusiastic than they were, but we still have fun.
We did run into some… life over the past year or so and haven't been updating. We've got a backlog of BEBE-related movie reviews to catch up on and hope to get through them soon.
In any case, let's see how we did according to the rules of Boiled Eggs and Brain Eaters:
Watch Some Zombie Movies
Check!  A decent selection overall.  We'll be doing full reviews of all of these in the coming weeks:
An above average year, all told!
Eat Lots of Good Food
Check! Mostly. We're getting older so "buckets of chocolate" are off the menu, but we did do a small batch of cupcakes and assorted goodies. Dinner, as usual was ham, smooshed potatoes, fried corn and dinner rolls. Nothing crazy, but there were no complaints!
Play Some Games
Check! Well, sorta. Mostly video games. Played a bit of "Fallout '76" on the PS4, which is terribly broken but still scratches some very specific itches. I'm also working through "Zelda: Breath of the Wild" on the Switch for the first time (our son inhaled it when it was released).
Spend Some Time with Those You Love
Check! We're glad to have time with the kids. In two years, our son will be graduating college and our daughter will be starting. Being secular humanists, Easter isn't on the priority list of holidays, so we're not sure how many more we'll have together and cherish what we do.
We hope that you had a great day with those you love and were able to fit in a little fun and games.  We also hope to see you back here in 2020!