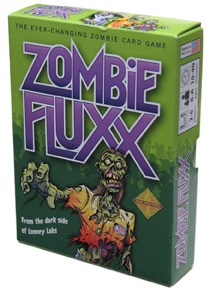 Zombie Fluxx at the Loony Labs Website
For 2-6 Players; Playtime 5-45 minutes; Ages 8+
Fluxx is a card game that celebrates change.  Starting with a single rule (draw one card, play one card) and a hand of three the game evolves constantly from there.  At any moment any (or all) of the rules can be changed, added to or eliminated.  You win by meeting the requirements of a goal that can also change from moment to moment.
The basic cards can be extended with a large number of booster packs and there are no less than ten custom deck variations with themes like sci-fi, pirates, the Wizard of Oz or, in this case, zombies.  Decks and expansion sets can be played separately or Frankenstein'd together to create even weirder experiences.
The zombie deck introduces a new card type, the "creeper", which is essentially the opposite of the standard "keeper" type.  The new cards cover all of the major zombie tropes.  Keepers include the shotgun, chainsaw and brains.  Goals could have been pulled directly from any number of zombie movies and even include a special card that allows the zombies to win.  Zombie fans have a lot to like here.
The main problem with the game, like most complex card games, is the breaks in momentum due to confusion.  Unless you've played the game enough to really know the cards you'll spend much of your time patiently waiting for other players to read their cards and deciding how to resolve the many times when an esoteric rule was forgotten.  Some may also find the unpredictability of the game a minor drawback.  Most games take between 20 and 30 minutes but they fly by in just a few minutes or drag out to more than hour.
These minor problems recede as your group becomes more comfortable with the way the game works (although they may return briefly when you add a new player).  Once a groove sets in, the game gets faster and significantly more fun.  This is a game that rewards the time you spend with it.