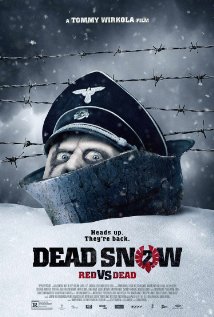 "Dead Snow 2: Red vs. Dead" on IMDB
Horror – 2014 – 100 Minutes
The original Dead Snow, released in 2009, was one of the first movies we screened as part of the very first Boiled Eggs and Brain Eaters. In a classic set-up, a group of young friends take a beer-fueled trip into the mountains for some fun in the snow. Unfortunately, once they get there, they raise an army of pissed-off undead nazis. It became an instant household favorite, but it did have a bit of an identity crisis.
The movie begins as a straight, effective horror movie. Perhaps poking a little fun at itself via deftly applied genre cliche, but a straight take nonetheless. There's enough jump scares, gore and bad decisions to satisfy any horror fan. That all changed in the last act. At that point the movie just goes amazingly, awesomely, absolutely insane. A darkly hilarious "gearing up" montage plays homage to "The Evil Dead" and prepares the audience for a pants-crapping crazy melee between the survivors and the Nazi dead.
The whole sequence launched the movie into a completely different class. The stark white, sun-soaked snow made for an amazing canvas for the splattering of blood and the splaying of severed limbs. The desperation of the survivors juxtaposed with the ridiculousness of the premise created one of the most darkly hilarious scenes in modern horror.
The sequel took everything that worked in that third act and cranked it straight to eleven.
It begins the moment the first film ended and continues the story of our sole survivor, Martin. He still has problems. The police have dismissed his explanation and are holding him responsible for the deaths of his friends. The Nazi zombies, led by the demonic Colonel Herzog, have decided to complete their original mission: march on and destroy a town that was a hotbed of the Norwegian resistance. Along the way he begins raising an army of the undead from his victims.
Through a ridiculous, but hilarious, circumstance Martin is now tied to the Colonel and shares some of his power. He's the only one with any hope of stopping Herzog. He gains allies as the story progresses, including the "Zombie Squad", a team of American zombie fans that have never seen a zombie but are absolutely positive that they exist. They're not what you'd call "effective", but they do have a hell of a lot of gumption.
The movie is gut-bustingly hilarious and unabashedly dark as hell. You will laugh your ass off and you will feel completely guilty for doing it. For all that, there's not a mean bone in this movie's shuffling, reanimated body. It's bigger, more bombastic and more irreverent than the first in every way. It's also gorgeously produced and artfully paced. This is the new standard for zombie party movies.