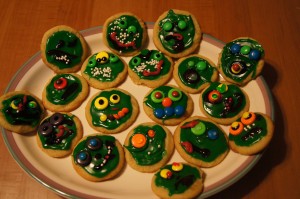 More Boiled Eggs and Brain Eaters 2014 preparation with our traditional crafty zombie cookies!
You can see the 2013 versions for instructions, but they're not that complicated: Bake some cookies, frost them green then let the kids go wild with the decorating.
To last year's collection of frosting, cake pens and candy we added some additional candy and white sugar beads. We thought they might work for exposed bone. They ended up looking more like overactive acne, but hey, experimentation is the spice of life!
As always, eat them before they eat you!