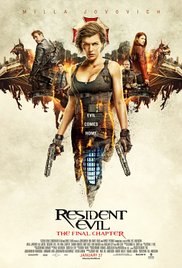 "Resident Evil: The Final Chapter" on IMDB
Sci-fi/Horror/Action – 2017 – 107 Minutes
We reviewed the first movie back in 2013 for the fourth BEBE, but never followed up on the other five. With this billed as the last entry in the series, we felt we had to at least complete the bookends.
Milla Jovovich returns as Alice, aimless and without hope in the ruins of Washington after the events of the last movie. She learns that Umbrella Corporation is planning to eradicate the few remaining human settlements to pave the way for their utopia. Alice must return to Raccoon City, foil their plans and steal the T-Virus cure they've developed to eliminate the undead threat and save humanity.
The bulk of the movie is high concept action. Giant monsters, enormous hordes of zombies and complex set pieces are the name of the game. The more intimate, tense environments of the first movie make lack-luster, significantly less effective appearances later.
The action scenes are overwhelmingly insulting. Jovovich is a marvel, but the unfocused, frenetic editing rarely lets her shine. Despite some interesting settings, the audience is rarely provided enough context for  anything but confusion. Every move is delivered with a dizzying barrage of camera movement, angles, and framing further muddied by strobe, jitter and slow motion effects.
The overall story fares somewhat better. While it's far from the promised definitive ending, it does wrap the main threads up well enough. It suffers from false urgency and a confused climax, but features quite a bit of fan service.
It's not a very good movie. At best you can say that this is a serviceable bookend to the story, but that's being extremely generous. It's biggest sin, by far, is burying it's star under layers of ham-fisted editing. Alice deserves better.