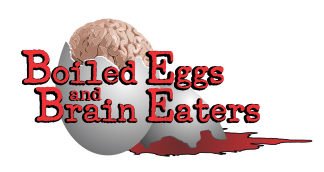 Boiled Eggs and Brain Eaters ("BEBE" for short) is our family's annual Easter Sunday zombie movie marathon and celebration of all things dead-but-wiggling.  Inspired by the hilarity of Zombie Jesus Day and the fact that in our heavily Catholic area almost nothing is happening for non-Catholics, we use the time to have some irreverent fun with those we love and have been doing so since 2010.
Previous Years
We started sharing our little celebration on this site in 2012, our third year.
How to BEBE
There are really only a few guidelines if you'd like to celebrate with us:
Watch Some Zombie Movies
Really, there's a million of them.  You can easily fill a day of movies from any of the major streaming services and there's everything from serious horror to campy comedy.  Find whatever everybody can enjoy.  Our only personal rule is that we always end the day with "Shaun of the Dead" but that's just us.  Purists might want to go with "Night of the Living Dead" as their capstone.
Eat Lots of Good Food
Of course boiled eggs are a must (preferably decorated appropriately) but you also can't go wrong with chocolate, jelly beans and marshmallow peeps.   For us the traditional dinner is a nice ham but whatever you like is great as long as it's good and there's lots of it.
There's plenty of novelty zombie candies available but they're expensive and (let's be honest) often taste like ass.  Some cake decorating gel and food coloring can turn peeps into zombie peeps and chocolate bunnies into risen rabbits.  With a little imagination and a lot less money you can create zombie treats that not only look great, they taste great too.
Play Some Games
We mean old-fashioned cardboard and plastic table games here (your TV is going to be busy elsewhere).  Anything you enjoy will do but it's always nice to have a new game or two to try out.  If you'd like to be thematically correct our favorite zombie game is Steve Jackson's Zombie Dice.  You can learn it instantly a game takes only a few minutes and everybody loves it.  They also make the hilarious Zombie Munchkin which now has several expansions available.  Last Night on Earth is also an excellent choice.
Don't forget that you can always zombie-up the tokens for your favorite game.  BEBE house rules can also be fun (automatic double-word score in scrabble for Zombie-related words for example).  It doesn't matter what you do, just have fun doing it.
Spend Some Time with Those You Love
Family, friends, pets, Internet strangers – whatever.  Collect them together someplace and enjoy.  Don't spend time with people that you feel like you have to spend time with; spend time with people that you want to spend time with.
Much of the content here at MoreBrains.com will be focused on our own Boiled Eggs and Brain Eaters Celebration.  If you have any ideas please send them over!