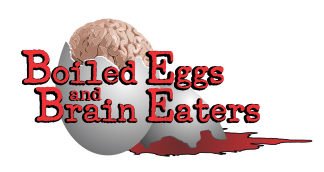 BEBE 2021, our twelfth year, is over! Little did we know that we'd be working through an actual global pandemic!  Even little-um…er did we think that I'd be kicking off a six-month round of chemotherapy!
Well, we can't even begin to make a guess on how the pandemic will work itself out, but I can say that my personal prognosis is very good and I've every intention of many more BEBE's to come!
In this weird, weird year, let's see how we did according to the rules of Boiled Eggs and Brain Eaters:
Watch Some Zombie Movies
Check!  Oddly, we have mostly big budget, star-studded affairs this time around:
Zombie with a Shotgun: Sadly, this one tried to do way too much with its shoestring budget and fell very short.
Little Monsters: This year's favorite, by far! Lupita Nyong'o is so damn adorable as a kindergarten teacher protecting her charges through a zombie outbreak.
Blood Quantum: An excellent "straight" zombie flick. After an outbreak has spared the local native population, a reservation community needs to determine how to move forward.
Shaun of the Dead: Still fried gold!
A damn fine year!
Eat Lots of Good Food, Play Some Games and Spend Time with Those you Love
All Check! We snuck in a few quick board games, grazed over some very nicely arrayed baskets of treats and did a coma-inducing meal of ham, smooshed potatoes, and fried corn. With chocolate pie for desert as we watched Shaun and the gang, all was right with the world.
The past year has been hard. The pandemic aside, I spent six months in chemo (recovering nicely, thank you very much!) and a long time mentally preparing for our daughter to head off to college. To have everybody back and enjoying this day with them was a truly special gift.