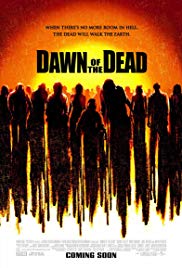 "Dawn of the Dead [2004]" on IMDB
Horror – 2004 – 111 Minutes
It's an absolute classic, but it must be admitted that the original Dawn of the Dead [Our Review] didn't age excruciatingly well. Youngsters may superficially mock the slang and the styles, but even older folks are likely to cringe a bit at the ham-fisted social commentary (not to mention the rampaging biker gang). A remake was inevitable.
Novice director Zack Snyder was selected to lead the project. Troma Films veteran James Gunn was tapped to write the screenplay; his second studio work after 2002's tepid live action "Scooby Doo". Both came to the project with a sincere love of the genre and a deep respect of the original material and made one of the best damn zombie flicks ever.
The original premise remains the same: a ragtag group of survivors find themselves trapped in a shopping mall by legions of the walking dead. The modern group is both more numerous and more eclectic than the original, allowing for more depth and development. Stars Sarah Polley and Ving Rhames may have the lion's share of screen time, but co-stars Ty Burell, Lindy Booth, Matt Frewer and others are all pitch perfect as well.
The underlying message of rampant consumerism is intact and celebrated in one of the most memorable montages in film: a slice-of-monotonous-life set to Richard Cheese's masterfully absurd cover of Disturbed's "Down With the Sickness". It's an inspired choice that elevates an already excellent treatment into something truly special.
Fans of the original are offered any number of lovely references and homages. Those unfamiliar with the source are given a finely crafted, stand-alone story. This is a classic, no matter how it's approached and not to be missed.