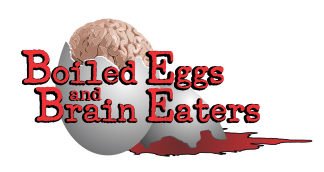 BEBE 2020, our eleventh year, is over! Little did we know that we'd be working through an actual global pandemic!  Even little-um…er did we think that I'd be kicking off a six-month round of chemotherapy!
Well, we can't even begin to make a guess on how the pandemic will work itself out, but I can say that my personal prognosis is very good and I've every intention of many more BEBE's to come!
In this weird, weird year, let's see how we did according to the rules of Boiled Eggs and Brain Eaters:
Watch Some Zombie Movies
Check!  Oddly, we have mostly big budget, star-studded affairs this time around:
Zombieland Double Tap: Not as good as the original, but a decent romp down memory lane.
The Dead Don't Die: What promised to be a talent-packed, deadpan anachronistic masterpiece ended as a dreadfully, horribly, dull movie.
Disney Z-O-M-B-I-E-S: My daughter made us do it. Not sure who made Disney do it, but hey, it's harmless enough.
Shaun of the Dead: Our traditional closer is still as fresh and as perfect as ever!
Not the best year, movie-wise, truth be told.
Eat Lots of Good Food
Check! I don't a huge appetite lately, so we're prioritizing quality over quantity. A small batch of chocolate cupcakes was the highlight with our traditional dinner of ham, smooshed potatoes and fried corn. No complaints.
Play Some Games
Check! My daughter is regressing as she approaches college and spent the day begging us to play games like "Candyland" and "Guess Who". We patronized her for a while, then did some Jackbox on the PlayStation as a palate cleanser.
Spend Some Time with Those You Love
Check! With my health problems casting a shadow on our lives, it was great to spend a simple day with family. Next year at this time, my daughter will be away at college and my son will be close to graduating. I hope they'll want to continue the tradition, but life does have a way of getting in the way.
We hope that you had a great day with those you love and were able to fit in a little fun and games.  We also hope to see you back here in 2021!