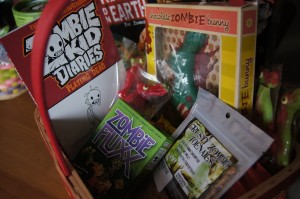 We're kicking off Boiled Eggs and Brain Eaters 2013 (tag: BEBE 2013)!  We're still in that perfectly appropriate shambling, groaning grumpy morning phase of the day right now.
The kids are looking through their baskets.  With a late addition by grandma they got quite the haul.  The girl is enamored with the Zombie Magnetic Poetry Kit and the boy is sitting in the corner of the couch grunting (teenagers).
As everybody is still pretty groggy and going through their morning grumps we're starting the movie marathon with something we've seen before, Resident Evil.  Not only is a damn fine zombie movie it's also one of the better video game movies.
We'll be posting activities and mini-reviews throughout the day.  (We're going to be full-length reviews of everything in the coming weeks but for today posts will be short and pithy.)