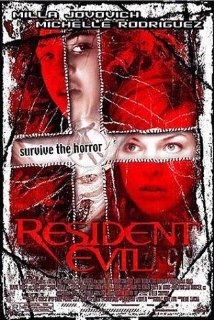 "Resident Evil" on IMDB
Horror – 2002 – 100 Minutes
This was our first selection for Boiled Eggs and Brain Eaters 2013.  Of course we'd seen it before but when you're still waking up and running through your morning routine it's nice to start with something that doesn't need your full attention.
This is the first in what's since become a five movie – and counting – series.  A surprisingly solid series overall, despite a few unfortunate missteps, but one that that has gotten progressively larger in scope with each installment as the infection destroys more and more of humanity.  This first outing was a much closer, intimate film.  Nearly all the action takes places in what amounts to an office building – a fantastical, advanced underground office building to be sure, but an office building nonetheless.
The movie was designed to work within the seams of the video game series and does so admirably.  (In fact the movies have maintained significantly better internal consistency than the games.)  More importantly the movie was designed to work with the game not (as nearly all other game-movies) against it.  There's no misguided attempts to attract a different audience, no eliminating what the core audience loved and no hubris leading to radically new ideas.  This is as close to a perfect video game movie as we've ever seen.
That's not say it's a perfect movie, of course.  By focusing on a group of trained, well-armed military personal it eliminates much (but not all) of the desperation and loneliness of the game.  The monster at the end is both convenient and clichéd and a lot of the science is… stupid.  Those are clearly minor complaints as the few places where it doesn't work are either forgivable or ignorable for the greater part.  Everything else works.  Even things that shouldn't work, like the hammy acting and over-the-top personality cliché's work.  They work because they mirror and respect the game and so gain much of the goodwill and forgiveness than the game enjoys.
This is a modern classic both in the video game and zombie genres.  It's not the most thought-provoking or original of films but it honors its source material, respects its audience and is utterly watchable.  What more could you want?