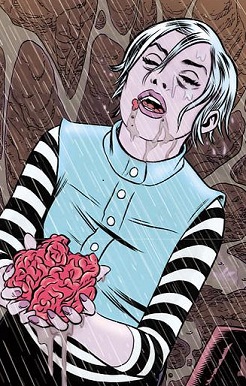 Gwen Price is a complicated chick.  Well worth getting to know if you have the chance but "baggage" is definitely a word that comes to mind.  She's unsure about her career, has some trouble connecting with her friends and has a really hard time with relationships.  She also has to eat a human brain once a month or so or else she'll devolve into a senseless, rampaging zombie.
iZombie unfortunately ended after 28 amazing issues but is still available at the better comic shops and digitally.  Written by the always interesting Chris Roberson and drawn in an amazing pop-art style by Mike Allred it was a story that crossed genre and generational gaps.
It began with the insanely interesting concept that a zombie needs to eat brains to retain their humanity but suffered the memories and desires of those from whom they partake.  After eating a brain (readily available in her position as a grave digger at a eco-friendly graveyard) Gwen would be nagged by the inherited memories until she took action.  The series could have rested on this impressive, but admittedly minor, stroke of genius and become a simple anthology.  Instead it proceeded to expand its scope into nearly every supernatural genre in the most wonderfully bizarre ways.
Gwen's best friends were an amiable, air-headed ghost and a neurotic were-terrier.  Later she becomes involved with a group of entrepreneurial vampires and the ancient order of monster hunters investigating them.  There's a group of government-sponsored monsters named for (and led by) dead presidents.   There's a 2,000 year-old mummy, a possessed chimpanzee and yes, there are Nazis.  There are also quite a few zombies.  At one point, at least, way too many zombies for the good citizens of Eugene, Oregon.
iZombie is a sharply written, deftly drawn orgy of genres and ideas.  It's a must-read for anybody looking for an original, clean take on zombie mythos and concepts.  Until we do the right thing and complete a full review of the book just trust us on this one: spend some time with Gwen and her friends.  You won't be disappointed.