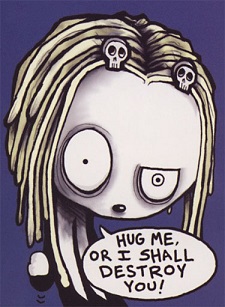 Lenore is a cute, precocious, curious little girl.  She loves cats and other animals (even if she often, presumably accidentally, kills them).   She's also, quite doubtlessly, dead.  It's really not clear whether or not Lenore is a zombie.  What we do know is that she's dead but she's still wiggling so let's induct her, at least provisionally, into the zed-word wing for now.
Lenore is the comic creation of artist Roman Dirge and was the star of a series of web shorts still available on YouTube.  First appearing in 1998 in an all too brief comic series, now available as collected graphic novels, published by Slave Labor Graphics the character got a second wind in 2009 with a new series published by Titan Books.  Although news has been quiet for some time the character so impressed Neil Gaiman that he attached himself to a planned film version of the story as executive producer.
The comic was dark and goth before dark and goth got popular and then cliché.  It's hilarious in that perfect way that makes you feel the tiniest bit guilty about laughing your ass off at a little dead girl.