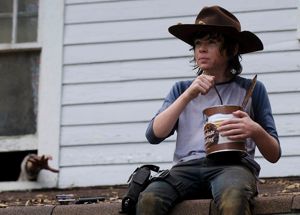 Here are a few random thoughts on The Walking Dead episode 409, "After". This is the mid-season premier and begins what looks to be a long, hard look at the aftermath of the attack on the prison.
[Spoilers ahead.]
So, We're Playing the Long Game
The destruction of the prison shattered our group and resulted in a heaping pile of questions. Rick and Carl limped off on their own, the main group on the escape bus took off, Tyreese ended up with a pack of kids, Daryl and Beth got thrown together as did Maggie, Bob and Sasha. What happened to Glen and Michonne? Is baby Judith as dead as they clearly want us to think she is? Did any of The Governor's people survive? We saw Tera run and there's still a chance (a small one) that Lilly also survived. Finally, the smart money is on us seeing Carol again before the season ends. The mid-season finale definitely ended with a lot of balls in the air.
Instead of diving into the deep end and running a roll-call the mid-season premier took a decidedly more low-key, parceled approach. We see only three characters: Rick, Carl and Michonne. None of the big questions from the previous episode are answered and nothing is settled.
I loved it and hope the rest of the characters get just as much attention. I could be happy with all of the remaining episodes focused this deeply on the aftermath.
Pudding, Puddles and Personal Pathos
This was Carl and Michonne's episode, no question. Rick spent the majority of the events comatose and mute. This forced Carl to work through his feelings alone while, unbeknownst to him, Michonne worked through a very similar emotional arc. Both Chandler Riggs and Danai Gurira were amazing in the episode. Andrew Lincoln, I suppose, also made a pretty good coma victim.
Carl convinces himself that he's able to survive alone; that he's strong enough to meet the challenges ahead without Rick. He yells at his unresponsive father, "I'd be fine if you died!" As he explores the quiet neighborhood and fumbles through several small victories his confidence grows. Finding the giant can of pudding capped his efforts with a symbolic victory.  The physical act of needing to climb to reach it was symbolic of his struggles and eating it perched a few feet from the walker he just escaped symbolic of his victory.
It wasn't until later, when faced with the immediacy of watching a second parent die in front of him, that he's truly forced to face his fears. While he proved that he might be able to survive alone, he must face the fact that he doesn't want to.  He has to acknowledge and accept his weakness and, more importantly, recognize that it may not be a weakness after all.
Michonne's arc is surprisingly similar. To set the stage we're finally introduced to some of her back-story via a sweetly disturbing flashback dream. Michonne's original "pets" were actually boyfriend and his best friend. Also, Michonne had a kid! A cute little moppet, even! We don't get to see exactly what happened between then and when she met Andrea in those woods, but it's obvious it was horrific.
As Michonne wanders numbly through the smoking ruins of the prison she begins to revert to her old survival mode. When she finds the head of poor Herschel and ends him it seems to set her jaw: she won't allow herself to be hurt again. As she walks away with her new pets her resolve is tested as she comes across, then abandons, fresh foot prints from other survivors in a mud puddle. Later, after walking mindlessly among a herd of walkers she comes to her senses, dispatches the herd in a flurry of katana-strokes and rushes back to follow the trail.
Where Carl had the blind confidence of his age Michonne knew she could survive alone. Yet, just like Carl, she needed to confront and accept the fact that she didn't want to.
Still Some Issues
While I loved the episode there were many of those really obvious holes that are becoming a trademark of the show.
The survivors lived in the prison for well over a year, perhaps closer to two. Wouldn't they have scoured the surrounding area? At least as far out as a limping Rick could walk in a day? Wouldn't they, perhaps, have even set up a few outlying safe houses? Just some known locations to ward against car trouble or give somebody a safe place to bolt.
Speaking of planning, what about that bus? The group clearly had an escape plan – the bus was all ready – but what was the next step? Wouldn't the obvious thing be some known meeting place? Wouldn't this be driven doubly home by the memory of the confusion after the farm was overrun?
My real problem is that while the group continues to survive it doesn't seem to learn from its experience and mistakes. This sometimes leads me to wonder if they deserve to survive at all. While I'm glad that we're getting back into the fight for survival full force it would be great to see our heroes evolving their attitudes and methods.