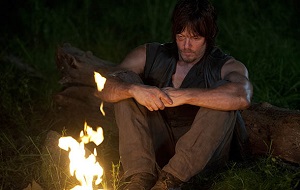 Here are a few random thoughts on The Walking Dead episode 410, "Inmates".
[Spoilers ahead.]
Carols and Judiths and Glenns, Oh My!
Well, my hopes of a slow, multi-episode reveal were dashed. In opposition to the slow, methodical thoughtfulness of the last episode we get four quick fire vignettes that wrap up all the other relevant aftermath stories. As we expected nobody else really important stayed dead or gone. Judith is annoying but, assuming we keep her away from Lizzie, fine. Carol's back and, since Tyreese still doesn't know why she left originally, fine. Glenn is… fine? I guess?
Most of these reveals were laced with at least a little confusion. In Glenn's case we last see him nearly passed out on the bus just moments before it drove off. But then we're told that he got off, "ran to help" and ended up passed out – but completely safe – up on the ledge. Carol's explanation to Tyreese felt off (more on that in a bit). Finally, baby Judith's reveal just made me wonder how she got separated from the baby carrier. It seemed like Tyreese could have really used a baby carrier.
Beth and Daryl got the short end of the stick in this one, but I liked the contrast that developed even in the short time we had with them. Beth, for being one of the veteran characters in the show, is still mostly an unknown. She's been given some powerful scenes in isolation but has yet to get a real personality.
Timelines and Distances
This episode highlighted something that I think is becoming a problem in the show: it's becoming very difficult to track how long things are taking and how far away things are. Carol's explanation to Tyreese seemed odd because it felt like so much more time had passed – more than enough to make a simple, "I decided to drive back later" ring false. Nothing in this episode could have really taken place more than two days after the fall of the prison.
All of the survivors are on foot. Most have some kind of handicap: wounds or screaming babies, for example. None of them can really be more than a few miles away from the prison, yet they all seem completely unfamiliar with their surroundings. Where Rick was apparently able to stagger to a nice residential neighborhood, everybody else seems to have decided that stumbling through the forest was the best idea. Yet Tyreese comes upon both survivors and posted notices about a place called Terminus that is, apparently, not far.
Woodbury, the Prison, Martinez's caravan camp and now this Terminus: they're all depicted as existing very close together yet they never crossed paths or discovered evidence of one another? Would they all be scavenging from the same, obvious places? I know it's a big world and there's not a lot of people around, but it seems like a community of any size in the vicinity would, within a year, attempt to scavenge a large, supplied facility like a prison.
Final Thoughts
Still, why didn't the group have some kind of plan for this? Even something as simple as "meet up by the old gas station"? I know I keep harping on this – but these people just don't seem to be learning from their mistakes. The longer that goes on, the harder it will become to empathize with these characters. Instead of rooting for hardened survivors we're on the cusp of just wondering how this crew of Gilligans have survived at all.
Abraham! Fans of the comic let out a universal squee! when Abraham and pals stepped off the truck in a near-perfect recreation of issue 53's cover. Of course this also highlights the disparity between the comic and the show as Abraham's entire storyline is  long settled in the comic. Still, it's nice to get some fan service even if there's no possible way to predict what's going to happen.