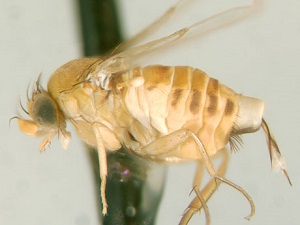 I didn't even realize this was a thing, but a thing it is! The Natural History Museum of Los Angeles County has tons of information about zombees! Basically when a honey bee is parasitized by the zombie fly (Apocephalus borealis in the smart talk) it stumbles out of it nest at night and wanders mindlessly.
Apparently the eggs change the bee's mental state causing it to seek out lights in a weird, non-bee way. As the growing maggots eat the bee from the inside out it gets more erratic and less and less… alive. Over a dozen maggots can then emerge from a single bee, wander away for a little bit then pupate into adult zombie flies.
The website has all kinds of information on how to find, collect and study these little undead buggers. Not because the zombees themselves are dangerous, but because the Zombie Fly is rampaging through an already stricken honey bee population. So, if you ever happen to see a Zombie Fly, why not squish it?