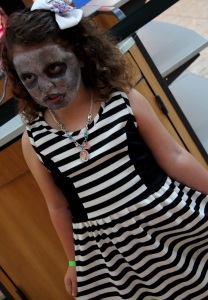 This week's zombie was found at Infect Scranton's UnDead Fed Food Drive. Celebrity guests asked zombie fans to donate two cans of food in exchange for autographed photos. Guests Brighton Sharbino and Michael Koske, from the AMC's The Walking Dead, were on hand and helped to collect hundreds of donations for the Keystone Rescue Mission.
Apalonia, or Apple, came to the event to meet the stars of "The Walking Dead" and, with the help of one of the many makeup artists in attendance, became one of the walking dead herself. Before her untimely death, Apple was a 5 year old girl living happily with her family. She enjoyed princesses, playing outside and other fun kid activities.
Although currently reduced to strangled moaning, Apple loved to sing and even sang the National Anthem at several Scranton/Wilkes-Barre Rail Riders baseball games. Apple has just started Kindergarten; I hope her classmates are ready to defend themselves.
We wish Apalonia all the best in her new, um… "life".