H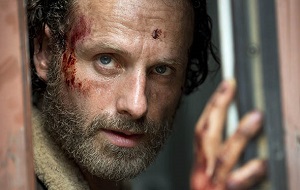 ere are a few random thoughts on The Walking Dead episode 501, "No Sanctuary". This season premier may have been the most exciting ever!
Also apologies, as due to family trips and a plague-like cold, we've only just watched this. This will be short and sweet.
[Spoilers ahead.]
Hells Yeah!
I was worried that the survivor's confinement would be a prolonged full-season affair, full of stressed dialog, flashbacks and back-story development. Instead we got bing-bang-boom and done! The show has been criticized, perhaps justifiably, for being mostly talk with the occasional action set-piece. This episode – in what I hope becomes a habit – showed that you can build character and actually move around at the same time.
The episode encapsulated an amazing story arc. We see Rick set his resolve to survive, translate that to utter contempt for the Termites and finally return to himself as his family is reunited. All of the group dynamics are demonstrated beautifully. Glen remains the group's conscience and keeps Rick's baser nature in check. Daryl is the protector and will always have his back. Carol does whatever needs to gets to done. Carl and Judith keep him grounded him while enervating his will to continue fighting.
Carol's All Out of Bubblegum
Carol has always been something of enigmatic character. Very early on she split from her single-dimensional comic counterpart and grew into a deceptively icy pragmatist. She's never shied from making the hard decisions and taking on the dirtiest of work. It's not always been understood or appreciated, but agree with her or not, you can't argue that Carol has always had the group's best interests deeply at heart.
What she hasn't been able to do until now was unambiguously, no question, just-plain save the day. Carol was a legitimate one-woman wrecking crew selflessly taking on a pack of conniving cannibals. No moral dilemma this time, no ifs-and-or-buts. She rose to the challenge and, I like to think, was relieved to finally have a stand-up fight.
Good Tidings
All told this premier was one of, if not the, best episodes of the series. It was tightly wound, story-rich and decisive. If this kind of quality and intensity can be maintained there's every reason to believe that season five will surpass everything we've seen so far.