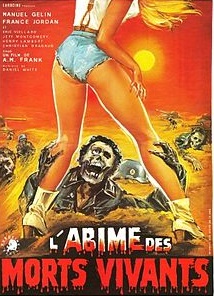 We continue to celebrate the world of Nazi Zombies with the lost French classic from 1982 "Oasis of the Zombies" this week. "Lost" because we can't find it anyplace and so have never see it, "French" because that's an actual thing it is and  "Classic" because we're clearly being extraordinarily generous.
The movie was apparently released in the U.S. under the title "Bloodsucking Nazi Zombies" but also under four or five others. The plot involves a treasure-hunting expedition scouring the African desert for lost Nazi gold that, it turns out, is still guarded by its escort: now undead. Apparently there are also helping, um, "handfuls" of boobs and gratuitous nudity but, again, we're unable to find a copy to confirm this.
Still, Nazi zombies are Nazi zombies and that's all that matters here!