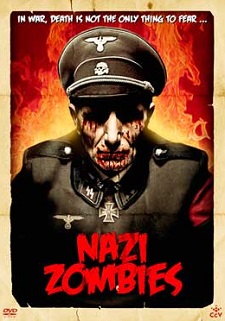 Like last week we're continuing our festival of all things dead, nazi and wiggling with a movie that clearly fits the bill but that we've yet to track down and actually watch. "Horrors of War" is a 2006 movie that, if the Internet Movie Database summary is any indication just might have been a little full of itself:
HORRORS OF WAR derives from the "B" movie, Grindhouse tradition, made to play like a like a midnight movie. It is an independently-produced film made in a B-movie style, yet with a dramatic grounding and an eye toward bigger production values.
Still, who knows? The movie already has a leg up in that in that it features zombified Nazis. Or would that be Nazified zombies?