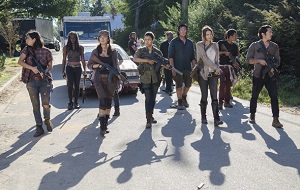 Here are a few random thoughts on The Walking Dead episode 512, "Remember".
[Spoilers ahead.]
Rick in Alexandria
Rick has me worried. I can understand his hesitation and his precautions, but draw the line at his weird aggression. He's worried about losing his edge, which is reasonable. He needs to keep up his skills and never become complacent, but the whole "crazy of the week" thing is getting old. It's more and more difficult to empathize, or even just understand, him.
Fans of the comic know what's (likely) coming and I'd like to see Rick on more solid ground before things really hit the fan. Here's hoping that his "take things over if they don't measure up" sentiment turns into "protect and serve" now that he's got that spiffy new coat.
Carol in Alexandria
Carol's shtick is clever but also overdone. I think the harmless routine is good, even if it may get more difficult to maintain as time goes on in the unlikely case that this isn't a community of cannibal cultists. My problem is the outright lies. Talking about how much she misses her husband? What if somebody mentions that to another member of the group? What if somebody mentions how thankful they are that Carol bad-assed her way into rescuing them the last time they were caught by cannibal cultists.
Or, even sillier, does the whole group have to keep up with her lies? Are they having meetings about this that we're not seeing? Keep it simple Carol. The key to a good lie is making it mostly true.
Overall it just seems like a hell of lot of work on the off chance that a) the Alexendrians are indeed plotting against them and b) that her feigned weakness will provide some kind of meaningful advantage.
Daryl in Alexandria
Daryl seems to me, to be the easiest to read. He was always uncomfortable in civilized society and so is uncomfortable in what he sees as a return to it. He's proved himself time and time again to the group on the bleeding edge of survival, but may be worried about his perceived role when true security is available. In short where the others are worried that Alexandria isn't what it seems, Daryl is worried that it's exactly what it seems.
Daryl is the one character, with the possible addition of Carol, who's life is significantly better because of the zombie apocalypse. Despite the horrors, Daryl now has a family and friends that need him. But, despite all evidence to the contrary, he still clings to a shard of fear that they only accept him because he's useful. Alexandria terrifies him.
Everybody else in Alexandria
The rest of the group seems to be doing as well as can be expected. Carl is cautiously optimistic but unwilling to compromise his own sense of empowerment. Glenn and Tara remain in lockstep, capable but willing to extend understanding. Noah remains, effectively, a blank slate. Michonne remains receptive, but prepared.
We've not really seen much of the rest, but it's not difficult to predict their reactions. Abraham is desperate to find a new mission, and protecting the last example of civilization seems right up his alley. Rosita will follow Abraham and Eugene will do whatever's needed to get along. Maggie will, I think, eventually come around as well, but needs to work through her grief first.
My hope is that Alexandria is exactly what it appears to be. That doesn't mean everything is golden for our group but, unlike the prison, this is a place truly worth fighting for.