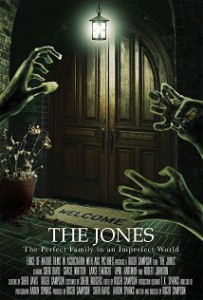 We have a nice surprise: just last night, Roger Sampson of Force of Nature Films sent us a note that he had finished the second segment of his horror anthology, "The Forces of Horror Anthology Series Volume I" and it's a zombie story! Talk about synergy!
Where the first segment was a serious, otherworldly reversal of expectations, this one, "The Jones" is a tongue-in-cheek take on the zombie genre. Here we meet the Jones, an average, normal family of zombies just not-living life just like everybody else. They have a small problem: their daughter's not feeling well. She's lost her taste for brains and her fever is well above room-temperature. What's a pair of loving zombie parents to do?
Like the first segment of the anthology, "Revelations", which we reviewed on our sister site, DepressedPressed.com, this is a no-budget production that exceeds expectations. Each short presents a single interesting concept, "Twilight Zone" style, and gives us just a taste of it.
Here's the trailer for "The Jones" and we highly recommend that you track it down when it's released: