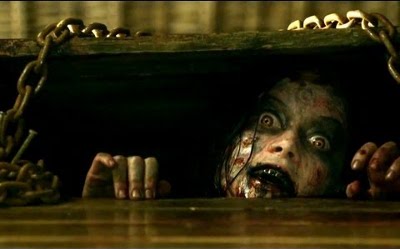 In our continued celebration of the upcoming Halloween premier of Ash vs Evil Dead, Zombie of the Week has been overrun by Deadites! We're bringing you our favorite Deadites from across the franchise!
This week we're acknowledging the oft-maligned (even by us, read our review at our sister site, DepressedPress.com) 2013 reboot. Despite our being unable to forgive that one damn scene, the remake wasn't truly that bad. In it troubled Mia (Jane Levy), a recovering addict, is the target of the evil. She's possessed, says and does some very naughty things, gets better and is attacked by her evil doppelgänger, the abomination.
The message is clear kids: don't do drugs.
This is the
133rd
Zombie of the Week
; that's over two years of zombies! We are desperately running out of ideas! Please
contact us
with suggestions!