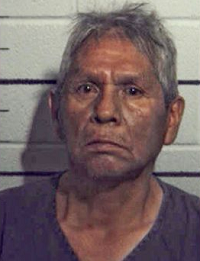 Here's to all the unsung heros! All those that keep us safe from the horrors that quietly surround us! Here's to this guy, Ronald Hesswood Blackbear, who was the only one that recognized the danger of the risen dead and took action! For you!
Or, you know, he's just plain pants-crapping crazy.
As reported by KSL.com in "Man shot at people he thought 'were coming back to life' before allegedly stabbing brother", this guy shot at several people he ws convinced had "come back to life" and then stabbed his brother in the chest, presumably because he was "infected" as well. He reportedly told arresting officers that he might be infected himself, and he – and they – could "turn" at any moment. According to a man that spoke to him after the attacks, Blackbear said: "that people were coming back to life from his closet, so he fired a gun at them and left the body lying there."
So, hero on the front line against the wandering dead, or crazy guy from Utah? American, you be the judge! Well, not really; the U.S. District Court is actually handling the judging.
This is the
138th
Zombie of the Week
; that's over two years of zombies! We are desperately running out of ideas! Please
contact us
with suggestions!