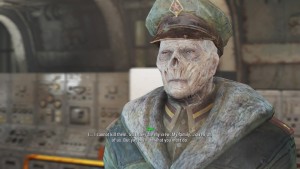 We've been playing Fallout 4 on the PlayStation 4 since its release on November 10th (you can follow our playthrough diary at our sister site, DepressedPress.com). We celebrated its new, more aggressive ghouls a few days later on November 15th. But what about the many interesting ghouls that don't want to immediately chew your face off? This series is for them!
[Minor spoilers below!]
As you're wandering down by the Boston waterfront, you might find a weirdly unaccompanied child amongst the super-mutants and raiders. Although you can spot at least three things that would kill him instantly within 50 feet, he seems more worried about a "sea monster" that's peeping at him from out in the bay. If you agree to go investigate, you'll be surprised to find a 200 year-old Chinese submarine.
If you board the relic, you'll be even more surprised to find another relic: the 200 year-old Captain Zao! Despite the fact that he, you know, was the one directly responsible for nuking your hometown, he's really not that bad a guy. Why not give him a hand with some fetch quests?
This is the
152th
Zombie of the Week
; that's nearly three years of zombies! We are desperately running out of ideas! Please
contact us
with suggestions!