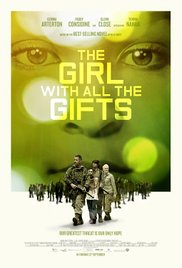 "The Girl with All the Gifts" on IMDB
Drama/Horror – 2016 – 111 Minutes
This film was a selection for BEBE 2017.
It's often difficult to defend our selected genre on the merits of its craft. The majority of films are dime-store efforts by well-meaning, but technically inept, fans or money-grubbers looking to cash in with as little effort as possible. The few that rise above tend to be hamstrung in one or more ways. They may lack any combination of money, talent or time. This is one of the few examples that have something interesting to say, are given the budget to say it, and can attract the talent to say it well.
The film is based on M.R. Carey's novel of the same name. Comic fans may know Carey as a writer for DC Vertigo favorites "Hellblazer", "Lucifer" and "The Unwritten" as well as significant runs of "X-men" and "Fantastic Four" for Marvel. Carey wrote the screenplay for the film in tandem with the novel. Although there are substantial differences between the two, the film remains protectively true to the spirit and message of its source material.
20 years ago, humanity was infected with a brain-altering fungus. It caused the infected to revert to a bestial, violent state and mercilessly attack any source of meat, including uninfected humans. These "hungries" soon forced the shredded remains of society into fortified military bases and quarantine zones.
The story is told almost exclusively from the point of view of Melanie, an intelligent, obedient, trusting child who hides a dark secret. There are only minor detours to other characters, usually to set specific context for the audience. It all hinges on the performance of 13-year old Sennia Nanua as Melanie and she rises to the challenge beautifully.
The rest of the small cast, including Glenn Close in a wonderful, subdued role as scientist researching the plague, is strong and confident. This is, more than anything, a character study
Many scenes demonstrate brilliant, deft transitions from quiet tension to fevered, raucous action. These punctuate the story beats precisely, yet never feel forced or artificial. The staging and cinematography are beautiful and deeply sell the post-apocalyptic setting.
The team leveraged high-quality micro-drones for overhead shots and kept the effects to an effective minimum. That the entire film was made for roughly five million dollars (compared to, say, the nearly 200 million budget of the anemic "World War Z") is nothing short of amazing.
This is the rare offering that will appeal to film fans in general and not "just genre fans".  A tight, original story told beautifully by a talented crew and cast. Not one to miss.