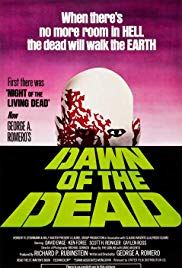 "Dawn of the Dead [1978]" on IMDB
Horror – 1978 – 127 Minutes
George Romero's first film, Night of the Living Dead, created the outbreak trope: mobs of reanimated dead mindlessly hunt the living. It explored how people would react to the situation over one, terrifying night. This one logically asks, "what would happen after?"
In the weeks following outbreak, tens of millions have died and society is collapsing. Stephen and Francine work at a Philadelphia TV station, but can see the end coming. Enlisting SWAT officers Roger and Peter to join them, they steal the traffic helicopter and escape the city. They end up in a rural shopping mall, which they clear and make a home in.
With everything a consumer could want in 1978 at their fingertips, the small group sets up house for the long haul. Many of the best scenes revolve around the plans they set into motion to gather supplies and protect themselves. Romero's writing rarely seems forced to a specific end; rather he creates a situation, places specific personalities into it and sees what might happen.
It took Romero nearly a decade to follow directly on the success of Night of the Living Dead with this semi-sequel. He had kept himself busy with many projects, but after a friend gave him a tour behind the scenes of a local mall he was inspired by the possibilities it provided.
This also marked his second, but far from last, collaboration with effects artist Tom Savini, who would become a legend in zombie genre in his own right. As one might expect, the effects, while tame by later standards, are top notch. This is more impressive considering that, at times, literally hundreds of extras needed to be zombified.
Setting the story in a mall ensures that the film shows its age more than Night. That film's rustic farm setting and choice of black-and-white pull it out of time. The slang, clothes and chain-smoking pregnant woman undeniably brand this as the seventies; then the height of reckless consumerism.
It earned $55 million on its $1.5 million budget, making it the most successful film of the franchise, overall. While derided by some critics, mostly for its liberal gore, most loved it. Roger Ebert, after giving it four-out-of-four stars, famously said that "nobody ever said art had to be good taste."