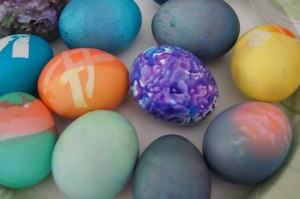 More BEBE 2013!  Our second movie, A Little Bit Zombie, was a blast (even if it did fizzle out at the end).  Great cast, clever ideas and actual humor.  Recommended!  I really doubt that our next one, Osombie, will match it.  The tag is "Bin Laden will Die… Again!"  Looks like Osama comes back from being buried at sea and tries to create a terrorist army of zombies.  Wish us luck with this one, sounds like we'll need it!
BEBE isn't BEBE without the first "BE" so we also died some eggs.  We tried using a contraption, Dudley's Spin an Egg, but it was… questionably successful.  The damn thing is hard to spin up right and it's really hard to get the lid on (and you take the lid off a lot).  But once we gave up and just dumped all the dye in we got some really gross looking eggs so it kinda, sorta works?  Maybe?
The dye they provide also seems to have a really long dry-time.  Everything is still sticky and dripping.  So while we'll probably never bother with this again we can say that is really cheap.  So if you like what you see (or are more willing to do things right) you might get some joy out of it.