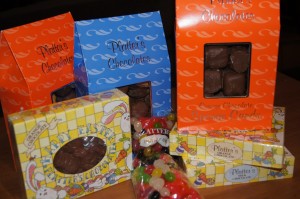 More BEBE 2013!  Just finished Resident Evil.  It was fun as always and nobody plays a better Michelle Rodriguez than Michelle Rodriguez.  We're moving to something lighter now that we haven't seen, A Little Bit Zombie.  The tag is "Being dead is easy, it's getting married that's the real killer" and apparently it's about a guy that's trying to hide his recent zombification from his terrifyingly organized bride-to-be.  It also has Kristen Hager (currently on the US version of "Being Human") so that's hopefully a plus!
On the chocolate front we have a lot of the regular available-anyplace-for-a-dollar fare but we also ordered lots of Platter's Chocolate.  I think most towns have a local chocolate shop that the people there think is the best one in the world.  Well, they're all wrong because this one is.  Famous for their Sponge Candy and Orange Chocolate.
We're so sure that Platter's is the best chocolate in the world we'll even make you a guarantee: if you order from them and don't agree just send us the remainder of your order and we'll eat it for you!  That's how sure we are of this.