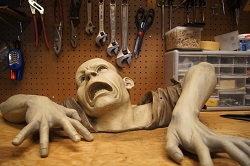 Available directly from Design Toscano and also from Amazon.com and ThinkGeek.com.
MSRP $99.95.
I'm 42 years-old, have a beautiful wife and children and my parents just gave me a life-sized zombie for my birthday.  Yeah, I'm doing pretty well.
This particular zombie is the "The Zombie of Montclaire Moors" garden sculpture by Design Toscano.  Molded in tough, but at only 13 pounds still relatively lightweight, resin this is truly life sized.  Although only the head and shoulders are modeled the entire sculpture is about 32 inches long and 8 inches tall.  I'm a big guy and the sculpture's hands are actually a bit larger than mine.
The design speaks for itself in the pictures below.  It's detailed and lifelike but not overly intricate which bodes well for its outdoor durability.  The color scheme is a simplistic but effective earthy wash which looks to be easy to clean (and, if need be, touch up).  Special mention has to be made of the eyes.  Paradoxically they're almost too lifelike for a corpse: they're clear and shiny with well-defined retinas and pupils and a nice depth to them.  They really sell the effect and are unsettling as hell when you catch sight of them unexpectedly.
The model ships in three pieces (the head-and-shoulders and the two arms).  The arms incorporate perfectly as the seams are cleverly hidden by the clothing.  The left-arm is higher than the right and fits snuggly into its socket while the right is lower and doesn't connect firmly as there is isn't a full circular socket.  The right-hand is raised several inches from the base and so either needs to be glued/epoxied into place or needs some kind of permanent support (we used a rock).
Installation is as complex as you'd like it to be.  You can just lie it wherever and it looks great or, for a more realistic effect, you can dig down a bit and really dress things up.  My only real concern is that, in my suburban neighborhood, I fear it won't last very long without getting stolen as there's no way to easily secure or anchor the piece for security.  It wouldn't be hard to rig something of course, but we still ended up placing ours in a more secure, but less optimal spot to play it safe.
Of course saying that something is so freaking cool that you're afraid it might be stolen isn't much of a criticism yet it's honestly the only one that I can raise.  I suppose, depending on where you live, there may be some issues with the neighbors but that's nothing you can fault the piece for either.  The cost is a bit high for a novelty item but is perfectly reasonable for the quality and size of the piece (and since I got it as a gift, who cares?)  If you have the means and the space this absolutely one of the most impressive items available for the true zombie fan.