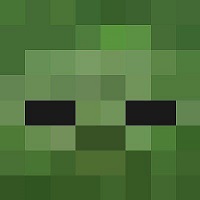 If you saw that strange assortment of pixels over there and immediately experienced a minor, involuntary shudder then you probably also know that sticks and coal makes torches and if you ever hear hissing you should move your ass.  If you have no reaction whatsoever then you probably shouldn't start nosing around this stuff unless you'd like to lose a significant chunk of your life to something that amounts to digital legos with spiders.
Zombies in Minecraft aren't the most original enemies nor are they the nastiest ones.  Truth be told they're rather easy to dispatch and those of us that have been playing for a while remember when we gleefully hunted them for feathers.  (Yes, killing zombies in Minecraft used to give you feathers.  No, there was no real sense to it.)  Now you can mow them down and collect a nice chunk of rotting meat which, if you're hungry enough, you can eat.  Sure, you'll get sick but it'll keep you alive until you can slap a pork-chop out of a pig.  (Minecraft is hard to explain.)
So sure, they're about as harmless as monsters can get but the real issue with zombie is that moan.  If it doesn't send shivers down your spine then you're not human.  It plugs directly into your brain's "oh shit!" centers like almost nothing else can.  Here's an experiment you can try: put a copy of the moan on your phone.  Now go to a place with a lot of people crammed together like a subway car or a crowded elevator.  Now play the sound.  Did you see anybody look really nervous for a second?  That person plays Minecraft!  If you're really cruel you can also do this with the creeper noise but we warn you: people make get hurt when the Minecraft players instinctively run.