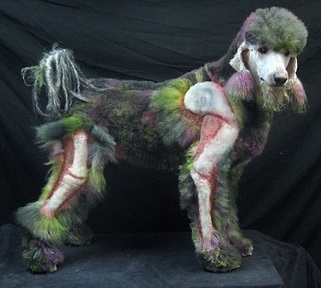 [I just realized that I screwed up the publish date on this and, horrors!, there was no zombie for over half the week!  I'm not sure you were all able to survive, but if you didn't send me a pic and maybe you'll be the next zombie of the week!]
Apparently artistic poodle grooming is a thing people do.  I'm not sure why that's a surprise to me at all; I already knew there were professional potato carvers.  There are also people who make a living pretending to be celebrities on twitter.  So who am I judge?
Anyway, this is Xerxes the Zombie Poodle.  I believe that his means his name is "Xerxes", that's he a poodle and that he's a zombie.  Really, pretty self-explanatory.  Yes his beloved owner,  Amy "Bullet" Brown, turned him into a zombie but let's not hold that against her.  He seems happy enough.
I fear that he seems "happy enough" because of the surprising number of hollowed-out, licked clean noggins around the dog-house but, well, he seems happy enough.