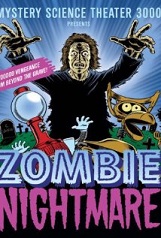 It took Mystery Science Theater 3000 to make "Zombie Nightmare" watchable.  Even then you may have your problems (as, for example, fully half the movie seems to have been filmed at night with no lights) but at least you'll laugh.
Jon Mikl Thor, Canadian body builder and heavy metal musician who bills himself humbly as "The Legendary Rock Warrior" plays good natured mama's boy Tony Washington.  Tony is killed by a group of teenage 80's hair-dos in a fast car.  As Tom Servo so musically puts it (to the tune of "Amore"): "When your car hits a guy and his body goes fly, that's a dead guy."
His mother, thankfully, is owed a favor by the local voodoo priestess.  She drags him back from death to allow his rampaging corpse to get his revenge.  She does this, by the way, through the cunning over-use of candles and make-up.
The movie is beyond terrible, even for Canada (I kid!) and Thor's attempt at "zombie" looks pretty much like his attempt at "not zombie".  He wanders around with a baseball bat, grunts, eventually runs accidentally into somebody that might deserve to die and then things happen.  Mostly off camera.  Still, the movie's failure is MST3K's success and for that we celebrate Tony Washington!