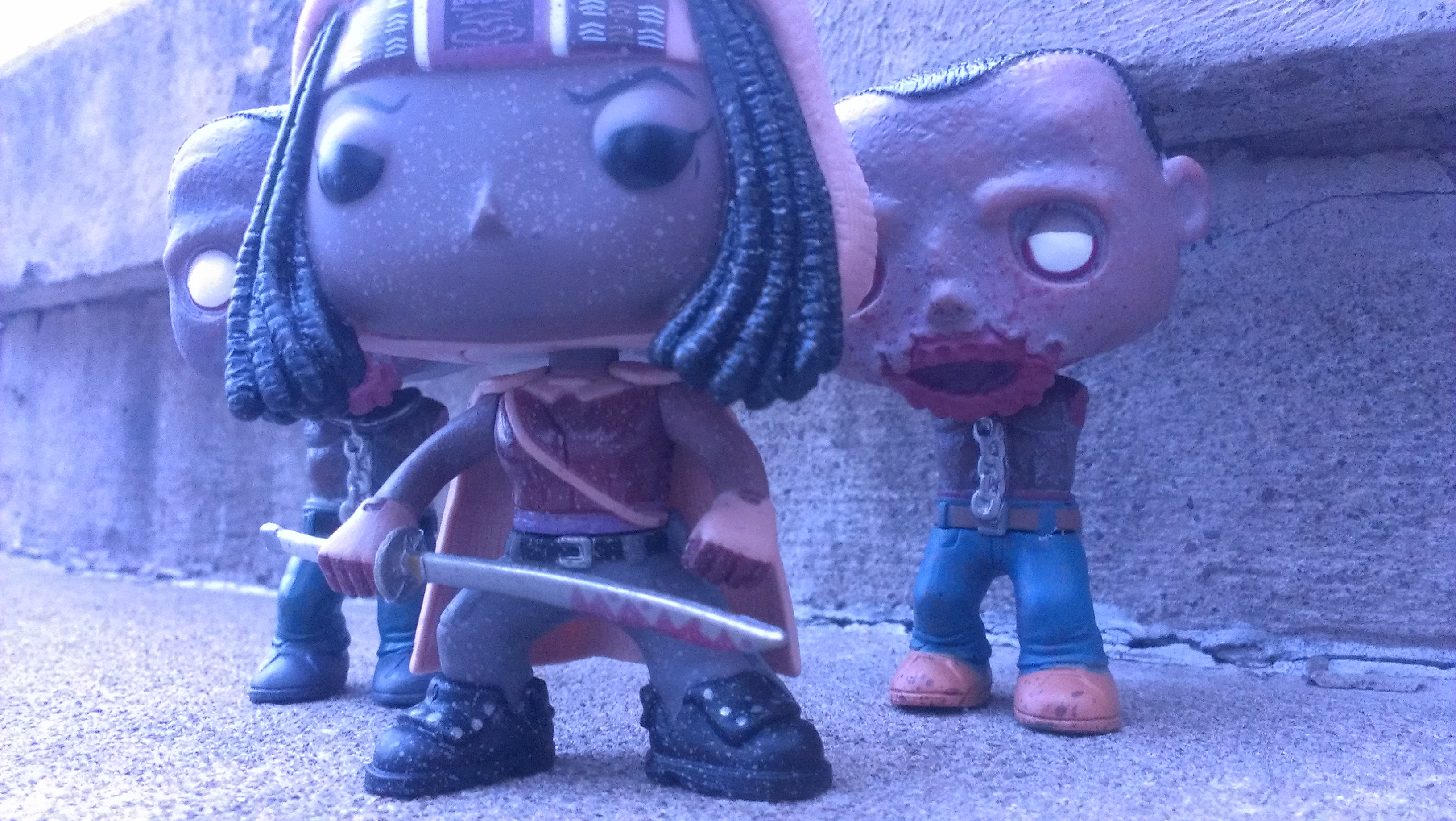 My family recently went on vacation without me (long, but not a completely sad, story).  The good thing is, being guilty, they bought me lots of presents!  I already talked about most of my haul on DepressedPress.com but I also got some nifty zombie-related swag as well.
I've seen these Funko Vinyl Figures all over the place.  It seems like they've made deals with anybody that owns a character.  I didn't actually realize that they had partnered with "The Walking Dead" but I suppose that since everybody else has it was just a matter of time.
After being introduced in the comic, Michonne quickly became a fan favorite (which also tended to make her a punching bag for author Robert Kirkman who loves to make us squirm).  Michonne is introduced as a hard, quiet survivor with a well-used katana and two, chained de-jawed "pet" zombies that act as camouflage protecting her from other walkers.  This combo pack of three figures recreates that iconic first appearance (later recreated wonderfully in the TV show by actress Danai Gurira).
(Also pictured is some zombie gum from BlueQ they brought me.  It's just gum.  Expensive gum.  I'm not going to do a review of gum.)
The figures are nicely rendered and heavily detailed.  They have the same super-deformed heads and simplified facial features that are the trademark of the line (which I've always assumed was at least somewhat inspired by my good friend Sackboy).  I'm slightly disappointed that the figures lack actual chains but I'll get over it.  These are not toys: there's no moving parts or accessories.  These are purely set-and-forget display pieces.
I'm not sure what was paid for these (it was a gift!) but it looks like they sell for $25-$30 at the regular outlets.  This is more than I'd likely be willing to spend on myself but as a gift, I'm happy.  Obviously, if you're not a fan of the super-deformed style then you should steer clear, but these are well done figures of an excellent character.  They're cute enough to be an everyday display item, but still macabre enough to satisfy real zombie fans.