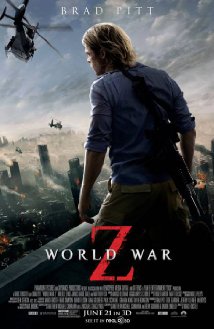 "World War Z" on IMDB
Action/Horror – 2013 – 113 Minutes
There were a lot of hopes and expectations attached to this project.  At nearly 200 million dollars, it was the first blockbuster-budgeted zombie movie.  Starring Brad Pitt and headed by "Quantum of Solace" director Marc Forster it had superstar power to spare.  It was based on the beloved cult classic book, "World War Z: An Oral History of the Zombie War" by Max Brooks.  On paper, at least, it had everything.
So, did it rise to the expectations?  Was all that money worth it?
Well, kinda. There are two big issues with the movie that drag it down.  First, and simplest, is that to gain a more marketable PG-13 rating much of the potential horror was neutered.  There are still some jumps here and there but the overall tone is rather tame.  You'll see significantly more disturbing images on television's "The Walking Dead" than you do here.
That's not to suggest that you absolutely need gore to make a good zombie story, but it does lead in to the second problem: that this is, in no recognizable way, based on the book.  The book is a selection of intensely interesting scenarios across the entire history of a world-wide zombie outbreak.  We hear about the early days of confusion, the years of survivors living isolated with the infected and finally the heroic efforts to turn the tide and reclaim our civilization.
The movie ignored the "big questions" of zombies so well covered in the book.  Instead it took the simplest view available.  Despite the obvious, the infected were dead.  Period.  There was never discussion of a cure or treatment.  All focus was on a vaccine for the uninfected.  As the movie only covered a few weeks, there was no opportunity to cover issues of extended survival, environmental issues or the psychological costs.  The movie is purely an outbreak story.
(As an aside, producers: the book, as written, would make an excellent long-form anthology television series.  You've been looking for something to compete with "The Walking Dead", right?  Get on it, will you.)
Pitt is a former United Nations investigator blackmailed back into duty to protect his family.  His goal is to discover "patient zero" of the outbreak and discover a vaccine.  The premise may have worked as a way to introduce some of the variety found in the book but as we only visit three locations in our search – let's call them "Expositionland", "Actionville" and "Resolutionopolis" – we lose all of the scale and depth that the book painstakingly crafted.
Expositionland is the most traditional segment.  After an excellent extended introduction to the situation we get down to business with a visit to a South Korean military base.  A dark and rainy night, trained soldiers and the living dead.  We learn what we need to know and we trim the cast down a bit.  On a small scale the zombies are truly no better or worse than any other quality movie, but on the large scale they're a sight to behold.
That's where Actionville comes in with the overrunning of Jerusalem.  We see hundreds, or even thousands, of agile, voracious undead overrunning the city.  The movement is gorgeously choreographed and reminiscent of an insect swarm or flowing water; inexorable, alien and without remorse.  The complex, multi-layered action rewards multiple viewings.  Truly, Actionville is the soul of this movie.
Resolutionopolis returns to a more intimate, traditional approach as our hero, after an aerial misadventure, ends up at a partially overrun W.H.O. facility in Wales.  The whole sequence is, of course, all about wrapping things up.  This is the longest segment and unfortunately the slowest as well.  This is also where concessions made to the ratings board are most obvious.  Where the earlier segments were able to hide the more adult imagery under darkness or grand, sweeping, long-shots, this segment is well-lit, up-close and personal and conspicuous for lack of focus on the action.
The final few minutes of the movie present a narrated, quasi-montage bringing closure to the world-wide situation. While many of these seem drawn from the book, all they really do is remind you how much better it might have been to have spent the last two hours with them instead.
This is far from a bad film and is a definite must-see for genre fans.  It's also, undeniably, a movie designed by committee to be more marketable than effective.  To leverage the name of a popular book while discarding everything that made it interesting.  Those who were hoping for a "Spiderman" style genre Renaissance and a flood of high-profile, high-budget, high-quality zombie movies will likely be disappointed.