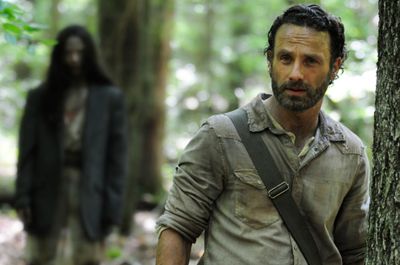 Here are a few random thoughts on The Walking Dead episode 401, "30 Days without an Accident".  This was the season 4 premiere.
[Spoilers ahead.]
Life.  In a Nutshell.
I loved the opening sequence.  In just a few, wordless minutes it imparted a huge amount of information about the quality of life at the prison and Rick's state of mind.  The large gardens spoke to a significant amount of free time and the growth spoke (imprecisely) to the passage of time.  The animal pens showed that our survivors made significant forays into the outside specifically for that purpose (you don't bring home live pigs or horses on a whim).
Rick's music player was an eloquent way to demonstrate Rick's newfound stability.  That the music shut out the constant background moans of the undead told us that he was both finding methods to cope and that he was finally able to let his guard down.  The entire adventure with Clara reinforces his new sense of stability and community.  I was never a fan of "Crazy Rick" from last season so this was a very promising start in my opinion.
The Roof Walkers.
The concept was definitely sound: a well-prepared, veteran group facing a wholly unexpected vector of attack definitely has some legs (and, if the final scene is any indication will be a recurring theme this season).  The execution left me wanting.  As we pan up we see a crashed helicopter and several dozen walkers on the roof of the big-box store the group is scavenging.  The helicopter (which presumably was carrying these former people as passengers) is crumpled into ruin but didn't actually (apparently) penetrate the roof.  The walkers are clearly milling around and spread out all over.
So when the walkers are suddenly attracted to a noise inside the store (when they ignored the noise of the approaching raiding party) and then (and only then) start falling through the roof, individually, like it was made of tissue paper, it felt… wrong.  Had the walkers converged on a single spot, which then collapsed and dumped the whole group, it might have made more sense.
New People, Old Problems.
One of the continuing themes of the evening was the introduction of new people (several of whom never made it past introductions).  Although he's not a new character, Tyreese is distinguishing himself from the significantly more confident comic book version.  He's unsure of his position but we see that a romance between him and Woodbury transplant, Karen, has begun.  Bob is a very recent addition who wants to pull his own weight and clearly has some issues with alcohol.  A bunch of the new kids are seen naming walkers which irks Carl.  What amounts to a playground argument sets the stage for one of the biggest moral questions of the series.
Looking at the regulars we see that Carol has blossomed into her leadership role, even to the point of disobeying Rick.  Michonne is obsessed with bringing the governor to justice and Daryl is having trouble adjusting to his new position of respect and authority.  Beth has found someone, for a short while at least, in Zach and shows us a new side of herself.  Glenn and Maggie discuss what life and family means post-infection.
All of these hooks, and many others, are cast out in this first hour of the new season.  It's unlikely that we'll see all of them fully addressed in the episodes ahead but having them lends an excellent depth to the supporting characters missing from many other shows.  Personally I'm hoping to get to know several new people, especially since the old ones keep dying alarmingly often.
So there are some random thoughts on the season premiere!  More next week!