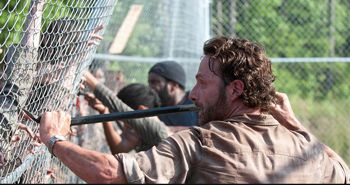 Here are a few random thoughts on The Walking Dead episode 402, "Infected".  This was the second episode of season 4 and it was a doozy.
[Spoilers ahead.]
Patrick, No!
I was kind of disappointed that Patrick was offed so quickly.   (You don't see Vincent Martella often but who doesn't love the idea of Phineas in the zombie apocalypse?)  The entire "sneak attack" on the cell-block seemed a little off, somehow.  We see Patrick leave his class with Carol then die in the shower.  I'm not sure how many showers they have set up or how late Carol's classes may be, but it seems odd to me that he was able to just lay there unnoticed until everybody else went to sleep.
Could the fact that everybody worked all day killing zombies and digging in the dirt, but apparently slept in their own filth be one of the reasons they have a killer plague on their hands now?
Carol gets Real.
Carol's really marching to her own beat lately.  I'm torn between loving it as an awesome example of character development and being really annoyed that she's being such a dick.  I understand where she was coming from, but the whole "hey little girl, you're weak!" thing was just so harsh (even if it's so very clear that freaky little girl is feeding zombies on the side).  As much as I like strong, self-sufficient Carol, I really hope they crack her armor soon.
As an aside: considering the world they live in, the fragility of life, and the strength of remaining bonds, wouldn't it be good if nobody had to take out infected loved ones?  If the community, as a rule, tried to ensure that the last memories that you have of your loved ones were of them as human?   It seems, to me at least, that this would strengthen the community much more than it would weaken the individual.  I guess Carol would disagree.
Rick Gets Pulled Back In, Tyreese Gets Thrown Under the Bus and Michonne has the Baby Blues.
Rick does everything he can to keep him and Carl on the "farmer" side of the chore wheel and away from the "stabbing zombies in the face" side, but when push comes to shove he reluctantly comes through.  The difficulty he had was palpable and was driven home even more when he had to not only release his piglets to the horde but split their bellies open before doing so.  The death of the pigs, by his own hand, was metaphorical of his ultimate failure to keep himself away from the violence that had so affected Carl.  It's going to be interesting to see if this will mark a complete surrender of his new-found ideals or result in a redoubling of his efforts.
It was pretty clear that it was coming last episode when we saw how troubled he was about everything except his relationship with Karen, but it was still hard to see Tyreese so totally screwed.  His happy, dopey grin while carrying the bunch of daisies was pure emotional blackmail.  If there's one thing this show hates, it's an emotional anchor.  Lori, Dale, Sophia, Duane, Herschel's leg – if somebody loves it, depends on it or nurtures it, this show will kill it (or drive them crazy over it).  I do wonder, though, if this may not be an alternate prelude to Tyreese's gymnasium rampage from the comics.  It's also worth wondering why he was never notified that she died and was actually cremated (assuming, of course, that's the order of events).
Finally, we get a tantalizing taste of something with Michonne and itty-bitty babies.  In both the comics and the show Michonne is an almost complete enigma so it will be great to dig into her past. Her having had a baby (one that either died or was given up) would be a little cliched, but more Michonne isn't ever a bad thing.
So there are some random thoughts on "Infected"!