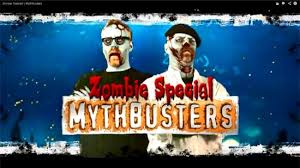 The MythBusters did a zombie special!  They had Michael Rooker and Greg Nicotero from "The Walking Dead"!  They had dozens of zombified extras!
It kinda blew.
I love the MythBusters but this one was weak, folks.  It was the most commercial and least informative episode ever.  The three myths examined were all uninspired.  The "Axe versus Gun" myth (which isn't a myth as it's a simple matter of opinion) was the weakest and the "Barn Door versus Zombie Horde" was the best – but not by much.  The "Running through Zombies" myth was just… odd.
I still liked it.  You really can't not like the MythBusters but I was hoping for some actual borderline scientific stuff here.  Why not rip into a pig carcass to see how easy it really is to disembowel somebody with your bare hands?  How about testing how many bacteria really are transferred in a human bite?  Maybe some analog studies in how easy it really is to crack a skull with traditional zombie-killing weapons or effectiveness tests on improvised weapons?
If you didn't watch this, catch it in re-runs.  It's fun and they clearly had a blast making it, but I really hope they revisit the topic with some actual science (and maybe even a little gore).