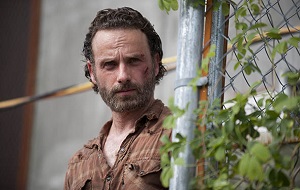 Here are a few random thoughts on The Walking Dead episode 403, "Isolation".
[Spoilers ahead.]
Who Watches the… Anybody?
One thought that keeps coming to mind across these last few episodes is, how is all this stuff getting done without anybody noticing?  I'm not sure exactly how many people are in the prison now but it can't be more than a few dozen.  With a community that small, with resources that limited it would seem that people would be hard pressed to maintain privacy of any kind.  Instead we see everybody just kind of wandering around alone.  Nobody ever seems to know where anybody else is or what they're doing.
How does somebody take two gas cans, carry them through the prison into a quarantine zone, kill two people (likely noisily), drag them dozens of feet and then set their bodies aflame in an open courtyard without anybody noticing?  Two burning bodies would have sent up plumes of greasy, black smoke hundreds of feet high.
Or so I'm assuming.  I definitely don't consider amateur cremation a hobby or anything…
We're Still Using Off-the-lot Sedans?
Daryl and three others volunteer to undertake a critical supply run into unknown territory, 50 miles away.  Do they all hop into a modified SUV?  Four-wheel drive, high-clearance with good visibility and plenty of extra room for unexpected supplies they may chance upon?  Maybe even modified for the circumstances?  Some wire across the windows allowing them to shoot zombies from inside safely and some additional strengthening of the bumpers for mowing down walkers?  At the very least a good CB radio so that they can stay in touch with the prison?
Nope.  They pile into a perfectly stock four-door sedan.  I'm sure it gets decent gas mileage and I'm sure the trunk is spacious enough but it's been at least two years at this point, hasn't it?  With at least six or eight peaceful months just past.  Shouldn't all their vehicles have been given some attention?  With their pick of anything nearby and quickly deteriorating road conditions wouldn't they want big, heavy, near-industrial vehicles?  They keep making "supply runs" in little cars and this irks me.  What if, say, they came upon a delivery truck full of canned goods and bottled water crashed in a ditch?  How much could they scavenge in that little car?  What if they ran across a good generator or a nice cookware set or a cache of weapons?
What if they ran across a tearful mother and her three nearly starving kids?  Wouldn't a Suburban that comfortably seats eight be pretty damn nice in those situations?
There are Zombies Out There!
In the same vein why does "getting ready to go outside" mean… pretty much nothing?  They know what's out there, they know what they're up against so why are no precautions taken?  In the comic one of the great finds at the prison was light-armor riot gear.  Wearing it, a survivor could move freely but still be protected from most chance bites.  Why do the television survivors consider tank-tops and sneakers proper "let's go face the zombies" gear?  Even simple arm/neck protection would allow them to fend off a small number of walkers (and their bites) – in a pinch a magazine duct-taped around your forearm would do (protip: until the zombie apocalypse this is also good advice for dealing with nasty dogs).
Nobody even seems to carry a backpack.  Extra ammo?  A little water or food?  A secondary weapon or even two?  A radio?  Matches?  A bit of rope and some Lembas bread for the road?  We constantly see Daryl shooting zombies and running, but he never seems to run out of bolts.  Tyreese had a hammer in this episode.  Just a plain old hammer.  That's all he took into an unknown, zombie-infested area.  By this point it seems like going outside would be a carefully played game of "what if?" with the most prepared winning.
Finally, I'm not going to touch Carol's admission with a 10-foot pole.  There's going to be some kind of hell to pay for that, but exactly what that will be I'm not prepared to even make a guess about.
So, there are some random thoughts on this episode!  More next week!