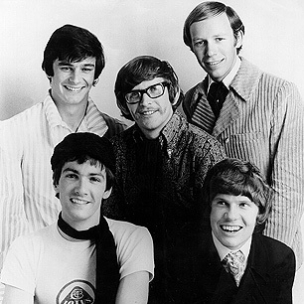 During the height of the British invasion The Zombies made a minor, but memorable impact both the U.K. and the U.S.  Led by Rod Argent and Colin Blunstone the group formed in 1962 and disbanded only five years in 1967.
Their biggest hit, "She's Not There", was released in 1964 and launched their U.S. tour.  The haunting, minor-key, genre-bending piece reached number two on the Billboard Top 100 and number 12 on the U.K. charts.  It was named 297 on Rolling Stone Magazines list of the 500 Greatest Songs of All Time.
They had a second U.S. hit with "Tell her No".  This was derided by some as being to similar to the Beatles but most critics agreed that it was thematically more complex than most bubblegum tracks.
They're final hit, 1968's "Time of the Season", wasn't their biggest hit but has come to define their legacy.  The song has come to represent the late 1960's counter-culture and has been used in dozens of related media.
According to band members the name "The Zombies" was begrudging accepted by  the group after rejecting second choice "Chatterley and the Gamekeepers".  We applaud their decision!