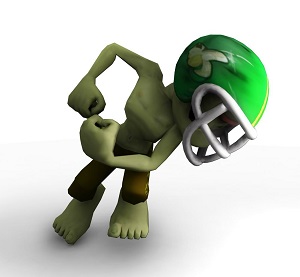 Burn Zombie Burn was released digitally on the PS3 in March, 2009 (and later on the PC). It's a simple game: you can a collection of wacky weapons against an even wackier collection of zombies massing in a never-ending horde.  It's the kind of game that would likely only be released on phones or tablets today (and suffer horribly from the lack of a controller).
It's also one of the few games that we continually return to again and again. The mechanics are simple but strategic. Burning zombies get you more points but are also more dangerous: do you play it safe or go for it? The experience is varied enough to maintain interest but not so complicated that you need to relearn it every time you pick it up.
So, we here at MoreBrains.com are declaring February "Burn Zombie Month!" and will be celebrating four of our favorite zombies from this gem of a game.
First up, to get the little bastard out of the way, is the Rusher. They're tough, fast and annoying. When they see you from across the arena they lower they're helmeted heads and beeline for your squishy, fragile form. There's really not much to say about them except, "Screw you, Rusher. Screw you!"