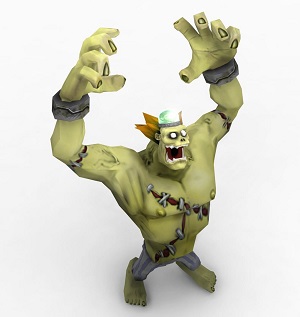 Our celebration of the the PS3 classic, Burn Zombie Burn Month, continues with the powerful, ginger-haired, dome-skulled, science-experiment-that-should-never-have-been, Super Zombie!
These hulking menaces can sometimes be blessings in disguise. They're far from discriminate and will gleefully rid the arena of other zombies as well as hapless players. This can come in especially handy when weapons are low and the area is teeming with melee-adverse noxious or exploder zombies. Still, don't goof around too much because sooner or later they will have your number.
These damn, deathly apes clomp around the arena gorilla-style. Their basic ground-pound attack isn't hard to understand and has the expected area of effect… um, effect. Leave one to its own devices, however, and you'll be treated to something special: flaming napalm farts. Yes, flaming napalm farts. Deadly, deadly flaming napalm farts.
Considering that you may not want to use the surprisingly effective tactic of attacking them with mechanized melee weapons, like the chainsaw or lawnmower, from behind. If not, you can also blow them up with TNT, which is effective but does have certain explodey risks as well.