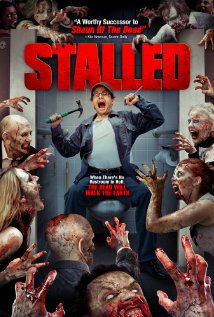 "Stalled" on IMDB
Horror/Comedy – 2013 – 84 Minutes
The poster for this film let's one know in nice, big letters that Kim Newman, reviewer for "Screen Daily" claims this movie is: "A worthy successor to 'Shaun of the Dead' [IMDB]." "Shaun" is, as you may have seen me mention numerous times, a perfect movie. Any film that could carry on that torch must be worth seeing, right?
Well, I'm afraid to say, Kim Newman is a damn, dirty liar. Or maybe has never actually seen "Shaun of the Dead". Or is possibly insane. "Stalled" isn't a complete waste of time, but a worthy successor to "Shaun of the Dead" it definitely is not.
It's the office Christmas party and, for some reason, a fumbling janitor is still working. He enters the lady's restroom to do… something or other, and hides in a stall when he hears others approaching. After a completely gratuitous bit of ridiculously out-of-place titillation the room fills with zombies leaving him, and as we discover, somebody else, trapped.
It's a bottle movie.  With very few exceptions the entire movie takes place in the toilet. This is completely fitting as much of the humor belongs there, but it doesn't bode well for the movie's staying power. The idea may have made an excellent experimental short film, but doesn't really have the gas to round out 80 minutes. When additionally weighed down with the extended subplot of his never-seen companion survivor, the movie ends up waddling around instead of taking flight.
There are some cute ideas and some passable running jokes, but there's also groan-inducing silliness and noticeably lazy writing. There are a few decent call outs to classic zombie flicks, but some are incredibly heavy-handed. The big twist ending (oh, how I loathe twist endings) is awkward as hell and not half as clever as they think it is.
I'm likely being harder than I might be on this movie due to the unwarranted comparison to "Shaun of the Dead". It's a clever concept and that alone earns it some points. I've also got a soft-spot for no-budget, labor-of-love productions, so more points there. It's not a particularly good movie, bit it's fun and (sometimes) clever.